Bronto
Email Marketing - Durham, NC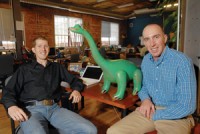 Bronto Software is a national leader in providing email marketing solutions to e-commerce companies around the world and one heck of a quill in the Triangle's tech-cap.LOCATION: Durham, NC
OPENED OUR DOORS: 2002
SIZE: 45
Core Capabilities: Email Marketing, Strategy

In their words... Bronto Software is a leading email marketing service provider based in Durham, North Carolina. Since its founding in 2002, Bronto has offered a robust email marketing platform coupled with award-winning client services to online retailers and businesses that drive transactions online. The exceptional deliverability, detailed analytics and extensive feature set of the Bronto application enables marketers to drive results. Bronto is comprised of real people that are accessible, personal and professional. We pride ourselves on winning the 2009 Stevie's Award for Best Customer Service Department. We care about our customers' success and are dedicated to helping their business prosper. Don't just take our word for it, our client retention rate averages over 94%. And 97% of our clients would recommend us to a colleague.