Gamil
Design and Engineering - Raleigh, NC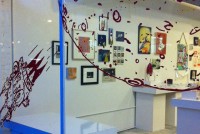 When it comes to creative design and engineering, very few companies have held downtown Raleigh's interest captive quite as long as Gamil has.When it comes to creative design and engineering, few companies have held downtown Raleigh's interest captive as long as Gamil has.
In their words...
LOCATION: Raleigh, NC
OPENED OUR DOORS: 1995
SIZE: just right (6 people)
Core Capabilities: Creativity, Product Design, Graphic Design, Engineering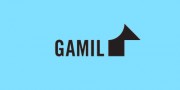 Gamil Design
is a product and graphic design firm in Raleigh, NC. Since our beginning in 1995, our focus has been on creative, innovative approaches to product, service or brand launches. Gamil Design is located within the Designbox space. We are an eclectic group of individuals who all have one major thing in common: We want our place of business to be fun
and
effective for ourselves and our clients!
That means comfort (like air-conditioning and a water cooler, and that certain feeling that comes from a relaxing environment). It means creative energy (like bouncing ideas around, and drinking too much coffee, and cool sounds coming from different computers). It means having a wonderful dog in the office. And it means knowing that the answer to any design challenge is somewhere in the room.
LAUNCH IT!
That's our mission. Through skills, creativity, and experience, we are committed to delivering a "WOW!" result for every client every time. We focus on human interaction. How is each person initially affected? Are they comfortable? Do they know how to use the object properly just by looking at it? Do they understand the message? Will they remember your company and offerings? It seems simple, so simple that it's often overlooked. We make it our primary focus.
CREATIVITY = CONNECTIVITY
Our design philosophy involves increasing our list of influences as far and wide as possible. We are founding members of Designbox and SPARKcon, and members of many other design collectives and associations. We seek out the latest ideas, materials, processes and trends by going to shows and conferences and collaborating with others. We lead creative workshops, lectures and classes.
WHY DO WE DO IT?
Besides the "make a decent living" part? Because we love it, and because we think design
CAN
make a difference in our enjoyment of and positive impact on the world.