CAM
Contemporary Art Museum - Raleigh, NC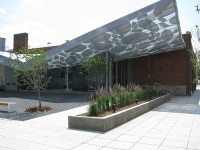 CAM Raleigh seeks to curate the most contemporary works of art and design possible—those still emerging, growing, and living. We hope to spark new thinking by creating ever-changing experiences that explore what's now and nearing.Scheduled to open to public on April 30, 2011, our renovated downtown warehouse is an approximately 20,000 square foot facility that will accommodate all of CAM's operational goals, including 3 galleries and dedicated educational spaces.The CAM warehouse renovation incorporates sustainable building practices, embodies the principles of sound land-use planning and promotes historic preservation. CAM's new home will be located in an early 20th century structure that is part of the Depot National Register Historic District. The Depot District contains Raleigh's only significant collection of buildings related to the heyday of railroad transportation and shipping in the Capital City. By recycling this important building, CAM preserves an important part of Raleigh's history and demonstrates its commitment to sustainability and leadership in community preservation.

The movement of the project from concept to reality has been made possible by many individuals, foundations and a special initiative launched in 2009 to obtain valuable Historic and New Market Tax Credits for the museum's redevelopment. The tax credit programs will provide a direct subsidy of more than $2 million for CAM, or about one half of the cost of the building\'s redevelopment.

Design History
In the fall of 2006, the Contemporary Art Foundation selected the architectural team of Clearscapes and Pugh + Scarpa. Clearscapes, based in Raleigh, is a multi-disciplinary design firm that focuses on cultural facilities, higher education, urban mixed use, and large scale public art. Current work includes the new Raleigh Convention Center, and four performing art theaters. Pugh+Scarpa is an architecture, engineering, interior design and planning firm founded in Santa Monica, California. The firm was recently chosen to receive the presitigious 2010 AIA Architecture Firm Award. The firm has received thirty-five major design awards, is one of ten worldwide finalists for the World Habitat Award, and presently has work on exhibit at the National Building Museum in Washington, DC.

---

CAM Raleigh hours are Monday, Wednesday, Thursday, Friday 11:00 a.m.–6:30 p.m., Saturday and Sunday 12:00 p.m. to 5:00 p.m., and first and third Fridays of the month open late. The museum is closed on Tuesday. General admission to the museum is $5. CAM Raleigh members, children 10 and under, members of NARM and Mod/Co, and NC State students, staff, and faculty are admitted free.

CAM Raleigh is located at 409 West Martin Street, Raleigh, NC 27603, between Harrington and West streets and in the heart of Raleigh's Depot National Register Historic District and Warehouse District. CAM Raleigh has a parking lot; additional parking is available at metered spots on the street or at the Davie Street Parking Lot located at 201 W. Davie Street. CAM Raleigh is wheelchair accessible.
Monday, Wednesday, Friday: 11-6:30pm | Saturday, Sunday: 12-5pm | Closed Tuesday