Designbox
Design Space - Raleigh, NC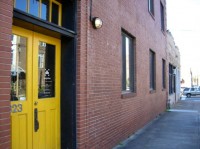 Designbox is a collaborative creative environment for entrepreneurs, creatives, freelancers, startups, and mobile professionals. Located in Raleigh's downtown warehouse district, Designbox provides a unique experience for creative minds to work around other talented individuals. We provide office and meeting space for single person use, collaborative teams, client or board meetings, special events, workshops and more. Some of the amenities include free WiFi, conference rooms, gallery space, phone room, projector, couches and more. Options include half-day, daily, weekly and monthly rentals. Designbox also offers six months leases which give you full keyed access to the space.
Designbox space core values:
Empower Creativity
Be Productive and Profitable
Be Respectable and Clean
Encourage Community Participation
Communicate Often With Transparency
Have Fun and Collaborate
Live By the Golden Rule
Amenities:
Open creative office environment
Gallery and Retail shop at main entrance
25 available workstations (4 Desk, 2 private offices, 2 conference areas, 1 quiet phone room)
Large conference room with table that fits up to 8, a large couch and kitchen access
Two conference areas that seat six
Mail Services
Free WiFi
Two private bathrooms
Kitchen with refrigerator, sink, microwave, coffeemaker, teapot (no oven/stove)
Inkjet Printer, large plotter, copy machine
Projector/white-screen
White boards
Books (see Library)
Office supplies
Audio Speaker system
Video Production Space
Flipboards
Gallery Space
Free coffee
Bike Rack/storage area
Walking distance from The Pit BBQ, Cherrybomb, Berkeley Cafe and Humble Pie
Awesome creative people
Parking
Parking in downtown Raleigh is always fun and adventurous but just a quick drive around the block and there's a parking lot or deck nearby. You could also park and catch the R-Line to Designbox as we're just one block away from the nearest R-Line locations. There's also 1:00 hour and 2:00 paid park spots available via the wonderful city of Raleigh. For other downtown parking suggestions visit Downtown Raleigh Alliance suggested parking page. Below are a few parking options for Designbox.
Nearby Parking Decks
Wake County Parking Deck
Municipal Building Deck
Monday- Friday 10:00 A.M. to 6:00 P.M